Love's Lemonade & Funnel Cake
Opens at 10:00 am 10:00 am - 2:00 am
Sunday

10:00 am - 2:00 am

Monday

10:00 am - 2:00 am

Tuesday

10:00 am - 2:00 am

Wednesday

10:00 am - 2:00 am

Thursday

10:00 am - 2:00 am

Friday

10:00 am - 2:00 am

Saturday

10:00 am - 2:00 am
Type:
American
,
Beach Food
,
Fast Food
Offering lemonade, funnel cake, shaved ice and more.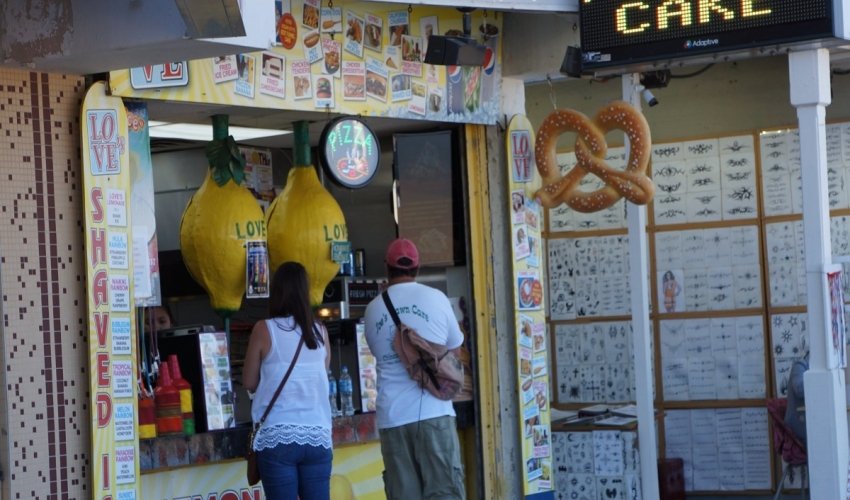 $
Recent Reviews
TripAdvisor Traveler Rating
5
Love's Lemonade & Funnel Cake
91
#101 of 417 Places to Eat in Ocean City
Best funnel cake in oc
Anyone that has walked the boardwalk has seen the big yellow lemons. We visited several times during our stay. The regular funnel cake was huge and the guy working there cut it in wedges which was...
itsadogslife717
2022-07-17 19:58:11
Love's Lemonade & Funnel Cake
Nasty Gyro
There were some little strips of hard meat with some lettuce and a squirt of sour cream, couldn't eat it, the man making it was behind something crouching over it, OMG Ocean City burned me so many...
U6353BEreneed
2022-08-25 11:00:28
Love's Lemonade & Funnel Cake
Just deep fried cake, not funnel cake
While I appreciate it was definitely made fresh when we ordered it. It was really just deep fried cake. There was minimal funneling, so very few crunchy edges. They served it cut like a pizza...
MsStarV21
2022-09-04 08:50:09
Love's Lemonade & Funnel Cake