Hampton Inn & Suites Ocean City/Bayfront-Convention Center
Closed
Sunday

12:00 am - 11:59 pm
The  Hampton Inn & Suites Ocean City Bayfront - Convention Center hotel is a serene retreat located just steps away from the beach and afew blocks from the famous three-mile boardwalk.  We're conveniently located adjacent to the Roland E. Powell Convention Center and close to restaurants, night clubs, amusement parks, shopping and golf courses.
Brew your morning coffee in your room, then start your day with a free hot breakfast consisting of rotating items such as sausage patties, eggs and French toast sticks. Within a short distance of our Ocean City, Maryland hotel, you'll find beach activities, fishing and golf. Spend a day with the kids at Jolly Rogers Amusement Park. Try your luck on slots and horse racing at Ocean Downs & Casino. Business visitors will appreciate being convenient to companies such as Atlantic General Hospital, Mountaire Farms, Perdue Farms, Wor-Wic Community College and Salisbury University.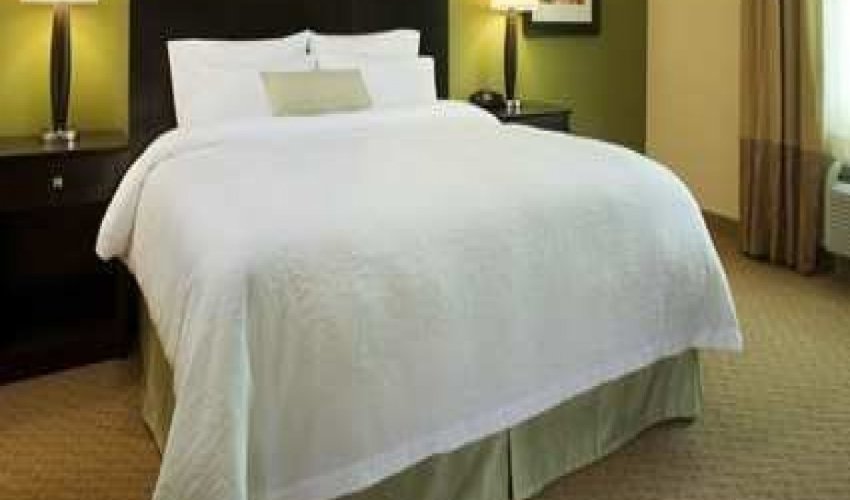 Recent Reviews
Hampton Inn & Suites Ocean City/Bayfront-Convention Center
Donna Rock Crawford : 5 on 10/17/2023 8:08 pm
Very nice hotel. They served an excellent breakfast set up each day.
The only issues we had were we called for help our rooms TV was not working at 730 pm. We gave up waiting for the gentleman to come up at 1130 pm.
We also had no extra tissues or toilet paper in our room. I thankfully had my own tissues in the car.
The place seemed understaffed, probably due to workforce issues of today. I did see a few guests looking around the front desk area various times trying to find help. No one was there.
But to be fair, I also did see management interviewing people in the lobby when we arrived, so they were hiring.
We would definitely say again in the future, and I was also very happy to see they are pet friendly! Great location walkable to multiple stores and restaurants.
Donna Rock Crawford
1697573293
Hampton Inn & Suites Ocean City/Bayfront-Convention Center
Jessica St. Louis : 3 on 11/5/2023 3:19 pm
I stayed Here during the off season with my family for my 3 year olds birthday. We got joining queen rooms: myself, my husband, my 2 daughters (14,10) and my son. The kids had a ball. The rooms were nice and clean. My girls enjoyed the pool. The hotel needs updating. The windows in the indoor pool area were desperately in need of cleaning. You could also see the hotel's age in certain areas like rusted over pipes in the pool area. The breakfast left a lot to be desired but i guess You get what you pay for. Lastly, they allow dogs at this hotel so be wary if you are allergic or don't care for them. I think The carpets in the common areas can use a good cleaning because i am Allergic to dogs and i was sneezing and itchy my entire stay. There was one front desk person that was friendly but otherwise the staff wasn't the friendliest. I think i expecting more hospitality as we were visiting from NY.
Jessica St. Louis
1699197543
Hampton Inn & Suites Ocean City/Bayfront-Convention Center
Rebecca Deo : 5 on 9/27/2023 10:25 pm
This was my wife and I first time in ocean city, and we decided to stay here. When we walked in the front desk guy who's name is Dustin was extremely helpful and friendly. We were here for my wife's birthday and he gave her some free candy. We decided that we would definitely come back because of how friendly he was. Then we got to our room and it was super clean, AMAZING view, and quiet. We some how got locked out of our room and Dustin happened to be the one downstairs and he helped us right away no questions asked. The house keeping staff was very nice as well. Because of this everytime we come back to ocean city Maryland we will be staying here. Thank you for making this week amazing
Rebecca Deo
1695853526
Hampton Inn & Suites Ocean City/Bayfront-Convention Center