Glitter & Gold
Please call for hours
With extensive selections of 14kt gold, gemstones, diamonds and sterling silver, we have something for everyone. Our friendly and knowledgeable staff is more than qualified to help you with all of your jewelry purchases, as we offer more than 50 years of combined experience in the jewelry industry. In addition, we have a goldsmith on premises for next day sizings and repairs during the summer season.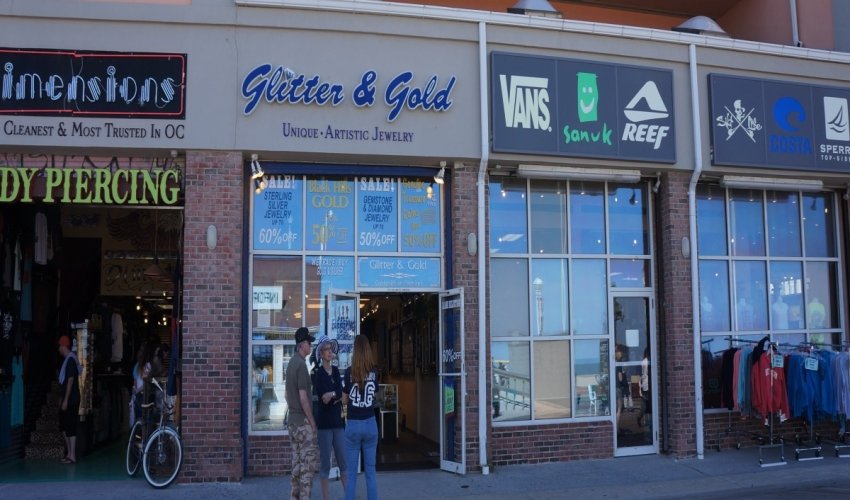 Recent Reviews
TripAdvisor Traveler Rating
5
Glitter & Gold
3
#13 of 17 Shopping in Ocean City
A Must Stop
Whenever we are in OC,we stop by to see Beth and Patty. Always a treat. They have many items that are unique to THEIR store and are always FAIRLY priced. Plus now with the "comfort station" gone,you...
HonestGuyDelaware
2012-12-10 11:48:37
Glitter & Gold
You'll Love All The Unique Jewelry!
What a great store, lots of cool jewelry from turquoise and sapphire, native american and coin jewelry, lots of great stuff I've never seen anywhere else!
robertjbanach
2017-07-29 14:33:19
Glitter & Gold
ALWAYS STOP
Have been coming here forever! Great assortment of the unusual, NOT a cookie cutter chain stop! Service is impeccable! Pricing very fair! Frenchie owners as well!!
HonestGuyDelaware
2019-06-10 12:42:55
Glitter & Gold