Frontier Town RV Resort & Campground
8:00 am - 8:00 pm
Monday

8:00 am - 6:00 pm

Tuesday

8:00 am - 6:00 pm

Wednesday

8:00 am - 6:00 pm

Thursday

8:00 am - 8:00 pm

Friday

8:00 am - 8:00 pm

Sunday

8:00 am - 6:00 pm

Saturday

8:00 am - 9:00 pm
While we're just a stone's throw away from some major area attractions like Ocean City, Assateague Island, and Berlin, we've got a ton of amenities you'll enjoy right on site! Relax on the Lazy River winding through the Water Park while the kids race down the waterslides. Play 18 holes of Miniature Golf amongst a peaceful setting of waterfalls and shade trees. Zip line through the forest as you power through obstacles in the High Ropes Adventure Park. Take a step back in time at the Western Theme Park, featuring our classic Wild West Shows and Native American Village. Prefer things a big more leisurely? Head bayside to the 200 foot long fishing pier. Go for a kayak tour or fishing charter. Take part in our planned activities. Visit the arcade and gift shop. Stroll along the nature trails. We even have 2 dog parks for your furry family members to enjoy! And if you forgot something or need a meal away from the campfire, our fully-stocked camp store, full service restaurant and bar, and ice cream parlor are sure to fix you right up.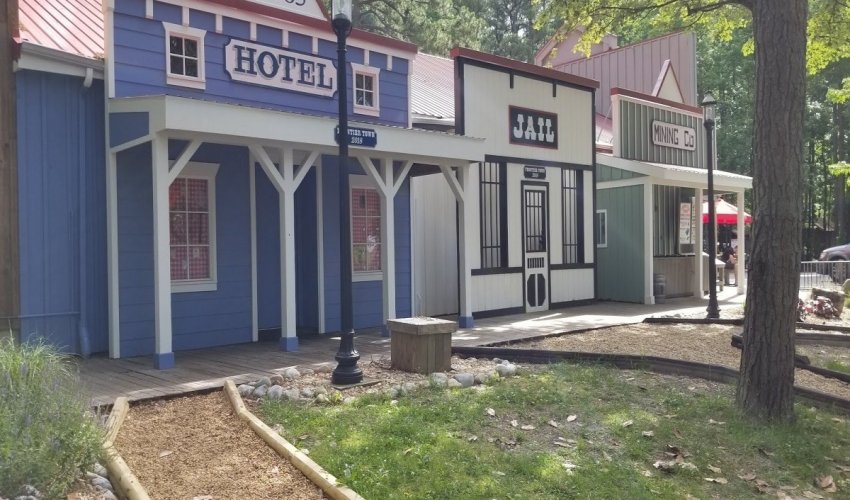 Recent Reviews
Frontier Town RV Resort & Campground
kim mccane : 4 on 9/5/2023 10:12 pm
My posse and I go to the Lazy River at least once a summer for a girls day. The place is relatively clean. The staff are always super friendly. I'm sure it can get fairly crowded, but we have been blessed each time with not being over crowded. It is a nice relaxing day experience floating at our leisure for hours. They do not allow outside food or beverage, which I understand completely. However their food is a bit pricey (in my opinion) but not out of line for this type of place and it is decent food. The adult drinks are very good but, be prepared to break the bank. They are ridiculously high, I bought 1 Electric Lemonade and as good as it was will not purchase again at those insane prices, the drink itself was $18.50 plus tax( this was for what they call a bucket). And then of course you have to tip the bartender, its not their fault the prices are set so high. So after all was said and done that 1 drink cost me $25.00😬😳😲 All in all this is a great place to hang with family, friends or even for some alone rejuvenating time. Will be back again next year with the posse.
kim mccane
1693951923
Frontier Town RV Resort & Campground
Lisa Clayton-Herbert, AAS-HCA : 5 on 11/17/2023 6:45 pm
Very clean. Map provided for entire premise so that we could easily find our site and all accommodations. Check-in was friendly and fast. The saloon was opened and provided karaoke from 6 to 10 pm. We attended and had a blast.
Lisa Clayton-Herbert, AAS-HCA
1700246701
Frontier Town RV Resort & Campground
dale snyder : 3 on 8/21/2023 5:49 pm
We've been camping here since 2020. We enjoy it but we notice it's more crowded year after year. Our first 2 years it wasn't bad and our site was roomy. Last summer(2022) the site was way too small for us. I think they didn't want to lose our $ and put us there to make a dollar. This last year (2023) our was site was great. The inky problem we had was when I booked back in February, they ended up losing my site when I called to pay my remaining balance in June. Apparently someone has the same first and last name as me. They gave
Her my site and applied the balance to her and I received an email notification which made me call since the credit card numbers didn't match up. They ended up finding us a site. It was very stressful to say the least!
Since Sun outdoors took over, I feel it's not as family oriented as it used to be. It's more of a money maker. The roads are also very crowded. The bus used to run everyday to and from the beach and not anymore. Prices by have gone up and quality has gone down. It's a shame because camping should be about family fun.
On a positive note, we had to leave a day early and the front desk was very accommodating and applied that day for next year for us to use.
dale snyder
1692640157
Frontier Town RV Resort & Campground