Commander Hotel & Suites
9:00 am - 5:00 pm
Monday

9:00 am - 5:00 pm

Tuesday

9:00 am - 5:00 pm

Wednesday

9:00 am - 5:00 pm

Thursday

9:00 am - 5:00 pm

Friday

9:00 am - 5:00 pm

Saturday

12:00 am - 12:00 am
Located about midway on Ocean City's famous Boardwalk, The Commander offers you the ultimate in comfort and amenities. Rediscover the hotel where excitement and relaxation have been standard for generations.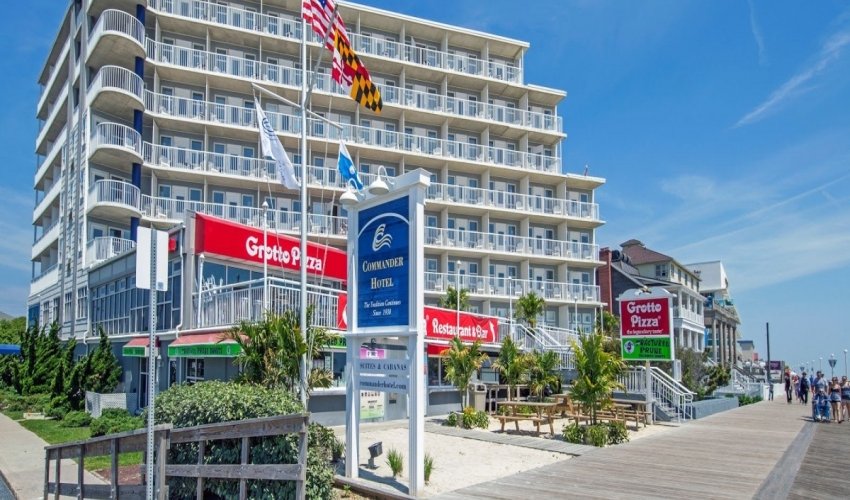 Mike Levine : 5 on 9/1/2023 2:54 pm
Excellent hotel!!
Excellent service!!
The Cabana Suite was beautiful. Clean and had everything we needed. The location was perfect. Right on the boardwalk, but a quiet area and right on the beach. Didn't care for Fractured Prune. Lady had an attitude and it was overpriced, average coffee. Will definately stay at the Commander Hotel again..
Mike Levine
1693580055
Commander Hotel & Suites
Beth Graham : 5 on 9/12/2023 11:02 pm
We stayed at The Commander the week after Labor Day and it was excellent! The rooms were clean and the staff was so nice. Alia checked us in when we arrived and we always looked forward to seeing her at the front desk. A kind young lady with a fun sense of humor. Thanks for laughs each day, Alia! We'll definitely be back!
Beth Graham
1694559744
Commander Hotel & Suites
Grace Alsawi : 2 on 10/18/2023 9:58 pm
We used to really love staying here . Our last visit left a lot to be expected.
Our bed was so hard it was almost impossible to sleep or get comfortable. We had our toddler with us and opened the balcony for her to explore and there 4 cigarettes and a large piece of glass which she immediately picked up .
It was just a huge let down after having such nice experiences in the past . Lastly the woman at the front desk was so rude when we were letting her know about the glass and cigarettes she literally just rolled her eyes and didn't say anything at all . Asked her about the beds and her response was a curt " I don't know"
When room service came to check on us for towels he was eating while trying to speak to us and couldn't understand what he was asking had to ask him 3 times to repeat himself with a mouth full of cookies . Everything was just so unprofessional.
Grace Alsawi
1697666320
Commander Hotel & Suites