Castaways RV Resort & Campground
8:30 am - 5:30 pm
Monday

8:30 am - 5:30 pm

Tuesday

8:30 am - 5:30 pm

Wednesday

8:30 am - 5:30 pm

Thursday

8:30 am - 5:30 pm

Friday

8:30 am - 5:30 pm
Nestled along the shores of the beautiful Sinepuxent Bay, Castaways Campground offers spectacular views of the Assateague National Seashore and the Ocean City skyline. Whether you tent camp, own a motorhome, rent one of our RV's you'll find Castaways offers a luxurious camping vacation second to none.
Relax on our private beach on in one of our two pools, have a cool drink at our waterfront tiki bar, join our daily activities or catch our free shuttle into Ocean City. With two dog parks, marina, boat slips, planned activities and more - Castaways is a great vacation for kids of all ages.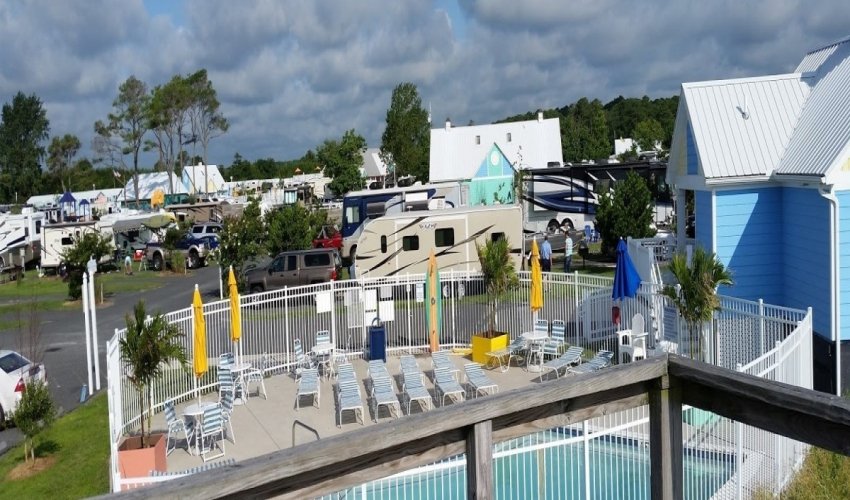 Recent Reviews
Castaways RV Resort & Campground
Rebecca Cicalo : 5 on 10/27/2023 6:35 pm
I recently had the pleasure of staying at Sun Outdoors Ocean City, and I can confidently say it was an experience that surpassed all my expectations! From the moment we arrived, the natural beauty and meticulously maintained grounds were a sight to behold, offering a perfect blend of comfort and serenity.

What really set our stay apart was the exceptional service, especially from an employee named Angela. Her attentiveness, professionalism, and warm personality made us feel incredibly welcome. Angela went above and beyond to ensure all our needs were met, providing excellent recommendations and always greeting us with a smile that brightened our day.

The amenities at Sun Outdoors are second to none. Whether you're looking for relaxation or adventure, this place has it all. The facilities were clean, modern, and well-equipped, contributing to a thoroughly relaxing environment. It's rare to find a place that feels like both a home away from home and an escape into paradise.

I must also commend the management for their commitment to creating a family-friendly and inclusive atmosphere. Every staff member we interacted with showed the same level of courtesy and professionalism as Angela, making our entire stay delightful.

I'm already planning my next visit to Sun Outdoors Ocean City. It's not just a destination; it's an experience that you'll want to revisit time and time again. Five stars aren't enough to capture the wonderful memories and exceptional service we received. Highly recommended for anyone looking to make their vacation extraordinary!
Rebecca Cicalo
1698431743
Castaways RV Resort & Campground
Jason Mountz : 5 on 10/28/2023 2:59 pm
We had such a great experience staying there for the nights a few weeks ago! Very nice places and loved the beach area. The one bartender we got to know while we were there, I believe his name was Corey. He's a real great catch for the busy bar that weekend. His service was impeccable and we've been recommending others to go and check it out and hope to get service from Corey! Great place!
Jason Mountz
1698505156
Castaways RV Resort & Campground
Nicole Holman : 5 on 10/15/2023 2:27 pm
Renovated cottages were really great. So many amenities, it was like home away from home. New appliances and outdoor fireplace on the patio was great. Dining nook was perfect for meals. Loved being so close to the beach. 2nd year staying and we'll be back next year!
Nicole Holman
1697380037
Castaways RV Resort & Campground