Bayside Boat Rentals & Jet Ski Rentals
8:30 am - 7:00 pm
Sunday

8:30 am - 7:00 pm

Monday

8:30 am - 7:00 pm

Tuesday

8:30 am - 7:00 pm

Wednesday

8:30 am - 7:00 pm

Thursday

8:30 am - 7:00 pm

Friday

8:30 am - 7:00 pm

Saturday

8:30 am - 7:00 pm
Here at Bayside Boat Rentals we have a number of fun and exciting water sport options to offer. Being a family owned and operated business since 1999 we pride ourselves on catering to you and yours, by maintaining a friendly, knowledgeable and certified staff as well as the most up-to-date, professionally serviced equipment.
We are currently renting one of the newest Jet Skis on the market, the 2018 Kawasaki 1500cc. Capable of carrying up to 3 people (as long as weight limit is not exceeded) and of ripping across the waves at as much as 50mph. You will not find a more exciting ride on the water, and we provide plenty of space to let 'em rip.
Our fleet of pontoon boats consists of only top quality manufacturers, capable of holding all of your family and friends(as long as weight limit is not exceeded). They are all equipped with Shade canopies and from the deck of a pontoon you can crab, fish, or picnic or even swim. In addition to cruising the bay we allow our pontoons to be docked so you can visit many of the local establishments along the bayside.
The Sugar Sand Tango is one of the fastest and most agile jet boats available on the market, equipped with Mercury engines they are both powerful and reliable. All of these boats seat 5 adults and are available in the 175hp version or the 200hp monster.
Located at 53rd Street Bayside - Behind Chauncey's Surf Shop, sharing a parking lot with Macky's Restaurant. In-season hours 8 a.m. to 9 p.m.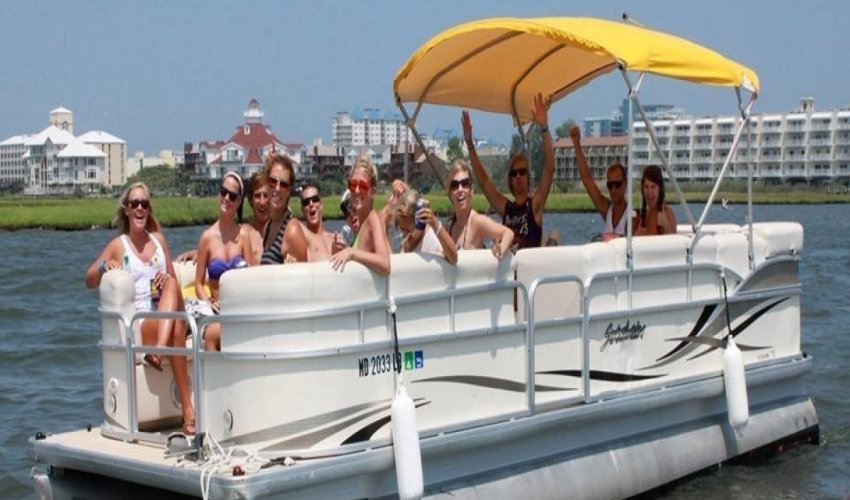 Recent Reviews
Bayside Boat Rentals & Jet Ski Rentals
Jamie Francis : 5 on 8/27/2023 1:25 am
Ryan and Connor were so helpful and knowledgeable, and made our family's jet skiing experience safe and so much fun! We loved how the jet ski handles were easier to use with a metal bar as opposed to one's we used elsewhere that you have to grip really hard. We only wish we understood the one hour rental was not an hour on the water but about 40 minutes after all the instruction time etc.
Jamie Francis
1693099522
Bayside Boat Rentals & Jet Ski Rentals
Gina Seyfried : 5 on 6/26/2023 2:39 pm
We had an EXCELLENT experience at Bayside! The office staff were professional and efficient. Cam and Jason explained all of the safety regulations and required paperwork clearly and were very kind and welcoming, a pleasure! We rented a pontoon for a few hours. It was pristine and in perfect working order. Dennis gave us a thorough briefing on how to operate the boat, all the safety regulations and some tips on areas to visit in the bay. Parking was easy and the staff were quick to help with our belongings. This is a very well run business and we really appreciated their focus on safety, customer service and our enjoyment. We will definitely return next summer and we hope to try their jet skies. Thank you so much, Bayside for a memorable afternoon!
Gina Seyfried
1687790344
Bayside Boat Rentals & Jet Ski Rentals
Alicia Campana : 5 on 8/9/2023 3:30 pm
This place hands down is the only jet ski place my family and I trust, and utilize!! Our Guide, Connor aka Matthew was AMAZING! Super knowledgeable, super friendly and he helped my 8yr old have an amazing and memorable first jet ski experience!! Our family enjoyed you Connor!! Thank you Connor and Bayside Rentals for a great time!!
Alicia Campana
1691595058
Bayside Boat Rentals & Jet Ski Rentals