Back Bay Adventures: Jet Ski Rentals, Fishing Charters, & Jet Boat Rides In Ocean City MD
8:00 am - 7:00 pm
Sunday

8:00 am - 7:00 pm

Monday

8:00 am - 7:00 pm

Tuesday

8:00 am - 7:00 pm

Wednesday

8:00 am - 7:00 pm

Thursday

8:00 am - 7:00 pm

Friday

8:00 am - 7:00 pm

Saturday

8:00 am - 7:00 pm
Back Bay Adventures is located on 32nd street bayside, next to Jolly Roger's Amusement Park. Back Bay Adventures offers fishing, private charters, hourly jet ski rentals, high speed jet boat rides, and an onsite tackle shop.
The Calico Jack 28 passenger headboat runs daily bay fishing trips and offers private fishing charters, cruises and parties. No fishing license is required and we fish for flounder, rockfish, sea bass, tautog, trout and croaker.
Rent a jet ski for a thrilling time in our calm and spacious riding area! Our jet skis are great for families, beginners, or the experienced rider.
Join us for Ocean City's only high speed jet boat!
The 9 passenger OC Screamer, is the newest activity at Back Bay Adventures, and the only high speed 500 hp jet boat in Ocean City, MD. A 10-15 mile jet boat ride on the beautiful Assawoman Bay, includes the famous Screamer 360° spins, bow dunks, power slides, and high speeds up to 50 mph. The OC Screamer is a wet and wild thrill ride your family will never forget!
Reservations are recommended. Due to Covid-19 some activities may not be operating on schedule. Thank you for your understanding and stay safe!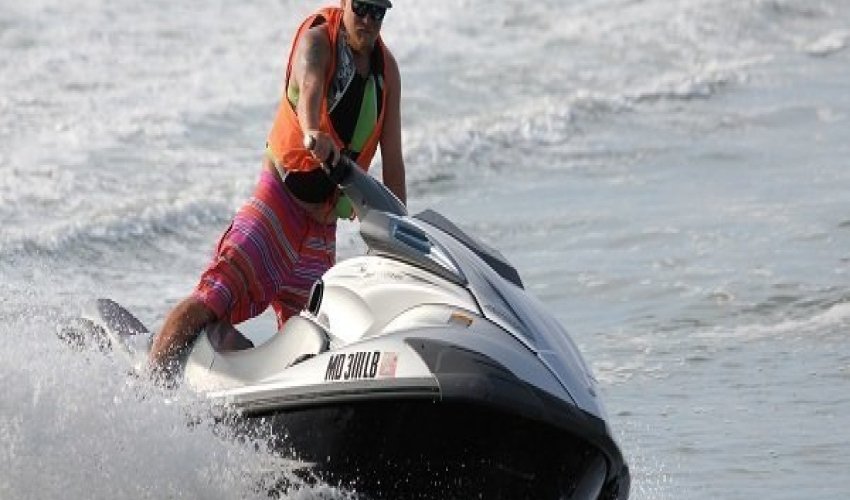 Recent Reviews
Back Bay Adventures: Jet Ski Rentals, Fishing Charters, & Jet Boat Rides In Ocean City MD
M M : 5 on 8/29/2023 12:23 pm
We arrived 30 mins prior to our scheduled time, to take a quick, easy test on safety precautions. Test was easy, checking in was easy and staff was very friendly. Our instructor was awesome. We had rented our ski dues for an hour and we were out on the waters for longer than an hour last time ever highly recommended.
M M
1693311791
Back Bay Adventures: Jet Ski Rentals, Fishing Charters, & Jet Boat Rides In Ocean City MD
Kyrstyna Texeira : 5 on 8/13/2023 7:30 pm
We booked the calico for a Bachelorette cruise for a the bridal party. We weren't sure how much drinking we were going to do so we asked for the 6 foot table and ended up keeping it pretty low key. The Captain was amazing bringing us over to the horse island and the first mate was helpful with anything we needed including trying to find the horses for us by climbing the boat 😂
they everything they said (cooler and extra ice and plug in speakers) Thanks for everything! Will definitely use you again when we plan our next trip.
Kyrstyna Texeira
1691955019
Back Bay Adventures: Jet Ski Rentals, Fishing Charters, & Jet Boat Rides In Ocean City MD
Joan Dawson : 5 on 6/15/2023 8:59 pm
We had a great time on the 9 am boat ride this week. I didn't fish but still had a great time, out on the water with my binoculars. My brother fished and caught three flounder. They were too short so he threw them back in. The first mate was helpful. This was a great value for the money.
Joan Dawson
1686862746
Back Bay Adventures: Jet Ski Rentals, Fishing Charters, & Jet Boat Rides In Ocean City MD