Atlantic Oceanfront Inn
Open Now 12:00 am - 11:59 pm
Sunday

12:00 am - 11:59 pm

Monday

12:00 am - 11:59 pm

Tuesday

12:00 am - 11:59 pm

Wednesday

12:00 am - 11:59 pm

Thursday

12:00 am - 11:59 pm

Friday

12:00 am - 11:59 pm

Saturday

12:00 am - 11:59 pm
The Atlantic Oceanfront Inn is located directly on the beach at 45th Street. They are within walking distance of great local restaurants, nightlife, local attractions and just a short drive to anywhere in Ocean City, Maryland.  Their mid town beach is perfect for families and beachgoers alike.  Come see why they are one of Ocean City's favorite hotels!
Hotel Features:
* Oceanfront Location
* Outdoor Pool
* Full Kitchens
* Room Types: Oceanfront Room & Suites, Ocean Patio Rooms & Suites, Ocean View and Standard Rooms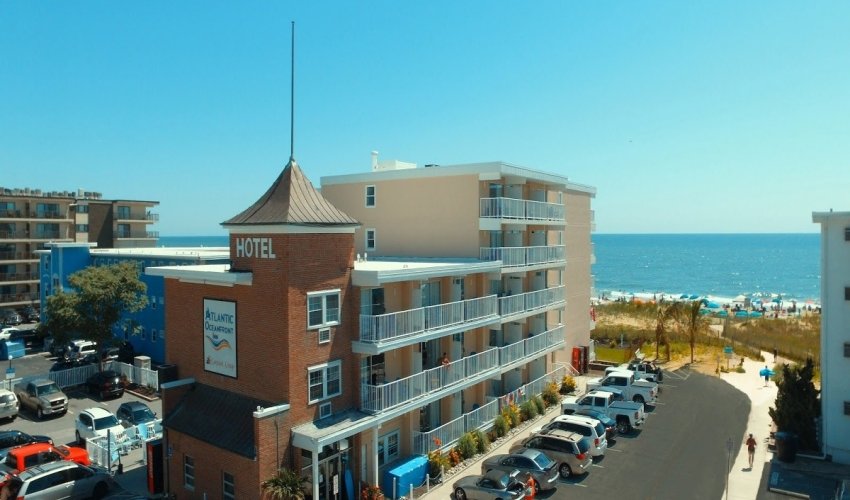 $$
Recent Reviews
TripAdvisor Traveler Rating
4
Atlantic Oceanfront Inn
632
#20 of 117 hotels in Ocean City
Wonderful place to stay
This was my first time staying at this hotel and my experience was fantastic. Vickie and her staff are amazing and were very friendly. Vickie gave us a quick tour of the hotel along with any...
ndyiab
2022-09-26 06:09:06
Atlantic Oceanfront Inn
Nice place
Went for a long weekend with a friend. Side beach view was plenty since it was fall and ended up raining. Walked to breakfast and seafood restaurant across the road. Room was nice and it was...
H1990ASterrim
2022-10-03 09:12:35
Atlantic Oceanfront Inn
10/10 would recommend
Even tho it was an ocean block hotel you could see the ocean which was nice. Also the rooms looked exactly like the picture the beds were really comfortable and the bathroom was nice. They also...
arielcT9001JA
2022-10-03 11:49:41
Atlantic Oceanfront Inn