Atlantic Oceanfront Inn
Open Now 12:00 am - 11:59 pm
Sunday

12:00 am - 11:59 pm

Monday

12:00 am - 11:59 pm

Tuesday

12:00 am - 11:59 pm

Wednesday

12:00 am - 11:59 pm

Thursday

12:00 am - 11:59 pm

Friday

12:00 am - 11:59 pm

Saturday

12:00 am - 11:59 pm
The Atlantic Oceanfront Inn is located directly on the beach at 45th Street. They are within walking distance of great local restaurants, nightlife, local attractions and just a short drive to anywhere in Ocean City, Maryland.  Their mid town beach is perfect for families and beachgoers alike.  Come see why they are one of Ocean City's favorite hotels!
Hotel Features:
* Oceanfront Location
* Outdoor Pool
* Full Kitchens
* Room Types: Oceanfront Room & Suites, Ocean Patio Rooms & Suites, Ocean View and Standard Rooms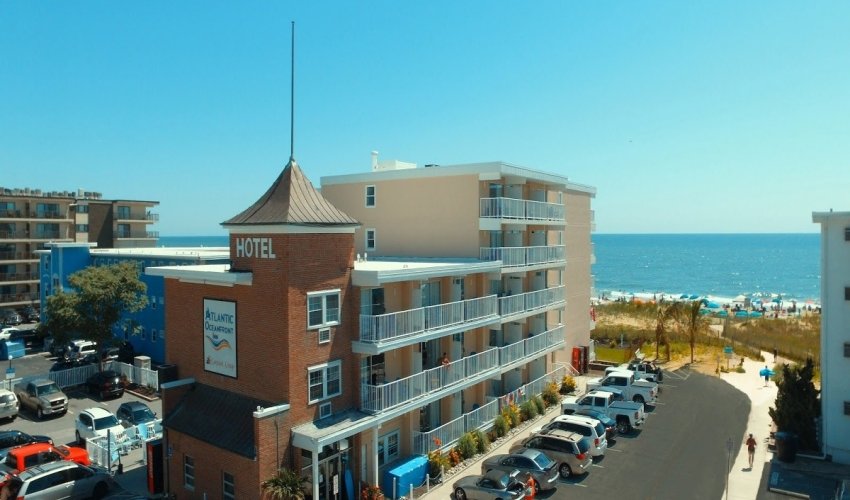 $$$
Recent Reviews
Travelers Choice 2020
TripAdvisor Traveler Rating
4
Atlantic Oceanfront Inn
513
#32 of 116 hotels in Ocean City
My birthday
I had such an amazing time. I will definitely be back. Best birthday ever. The staff was so nice and friendly. Loved it. I really liked that the indoor pool was open too. Made the stay alot better...
Shawna7577
2020-10-26 15:05:07
Atlantic Oceanfront Inn
Would stay again!!
This hotel is nothing to write home about but the location is great and it is nice enough! There is a pool in the parking lot which I wouldn't get in but it's there for people who need a pool on...
kekeilmo
2021-01-13 07:32:54
Atlantic Oceanfront Inn
Location, value, view great; cleanliness left a lot to be desired.
The woman at the front desk was amazing-- personable, funny, extremely accommodating. However, our bed caved in at the middle, so getting a good night's rest without rolling into my spouse was nearly...
S6978MMannam
2021-03-15 13:14:35
Atlantic Oceanfront Inn