Atlantic House Bed and Breakfast
9:00 am - 5:00 pm
Sunday

9:00 am - 5:00 pm

Monday

9:00 am - 5:00 pm

Tuesday

9:00 am - 5:00 pm

Wednesday

9:00 am - 5:00 pm

Thursday

9:00 am - 5:00 pm

Friday

9:00 am - 5:00 pm

Saturday

9:00 am - 5:00 pm
This bed and breakfast is family owned and operated and located in the heart of downtown Ocean City, MD. Just a block from the famous Boardwalk and beaches, you will be close to many attractions and events in town. The Inn Owners will provide a delicious breakfast daily and will help point you in the right direction while at the beach!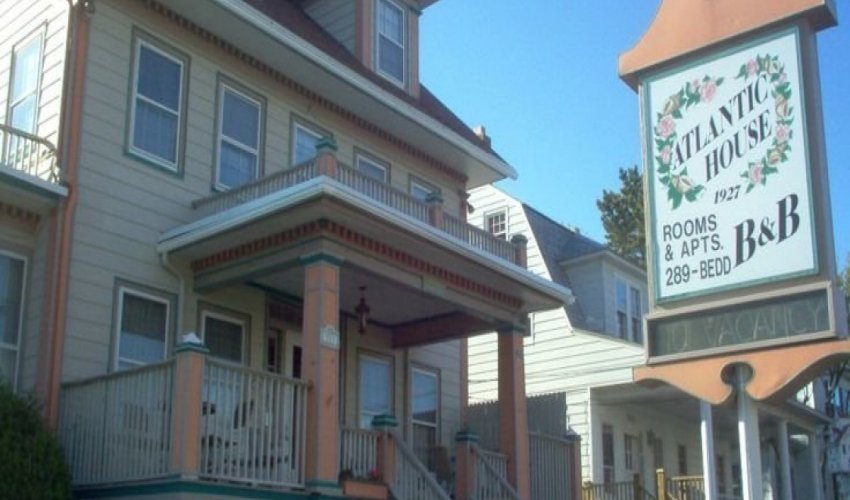 Recent Reviews
Atlantic House Bed and Breakfast
Cindy Campbell : 5 on 8/11/2023 2:09 pm
We really enjoyed our stay here. The room was very comfortable and had a cozy homely feel and it was quiet. The bed was very comfortable and the breakfast was great! I loved the fresh fruit!! I also really appreciated the good communication when we were arriving after check in time. Only a block to the beach. Thank you for a wonderful stay!💗
Cindy Campbell
1691762945
Atlantic House Bed and Breakfast
Kaitlyn A : 2 on 8/21/2023 5:09 am
If looking to stay at this place I'd recommend not booking room 8. It wasn't a pleasant experience. Bathroom was way too small and had mold all over the shower. The beds had 2 flat pillows on them. The room all around looked like it was just thrown together last minute, I hated every minute in it.

On the bright side, the location is great and close to the boardwalk/beach. The staff was super nice and the house overall was beautiful. We booked knowing what we were getting into, so I'm not upset just giving a heads up!
Kaitlyn A
1692594560
Atlantic House Bed and Breakfast
Kelly Jarvis : 5 on 8/28/2023 5:55 pm
This is such a sweet little spot combining the feel of an old fashioned home with modern touches. The old home has been remodeled and feels safe and clean, but also has character and history like you know it has a story. Unlike a hotel room, it felt very much like home. Being on the top floor, we thought we might be hot, but even on the hottest day almost reaching 90, the air conditioner was keeping up. The food was great and the porchy breakfast room to eat in is so cute. The front porch and landscaping are beautiful and the family that runs it is sweet. I enjoyed having the family feel in the heart of the boardwalk area of Ocean City. The location on 5th Street is walkable to all the things...food, boardwalk, beach, etc...and parking was easy. Our crew of mostly women felt safe going out together in the evening. I will definitely return with my family!
Kelly Jarvis
1693245319
Atlantic House Bed and Breakfast