Atlantic House Bed and Breakfast
Opens at 9:00 am 9:00 am - 5:00 pm
Sunday

9:00 am - 5:00 pm

Monday

9:00 am - 5:00 pm

Tuesday

9:00 am - 5:00 pm

Wednesday

9:00 am - 5:00 pm

Thursday

9:00 am - 5:00 pm

Friday

9:00 am - 5:00 pm

Saturday

9:00 am - 5:00 pm
This bed and breakfast is family owned and operated and located in the heart of downtown Ocean City, MD. Just a block from the famous Boardwalk and beaches, you will be close to many attractions and events in town. The Inn Owners will provide a delicious breakfast daily and will help point you in the right direction while at the beach!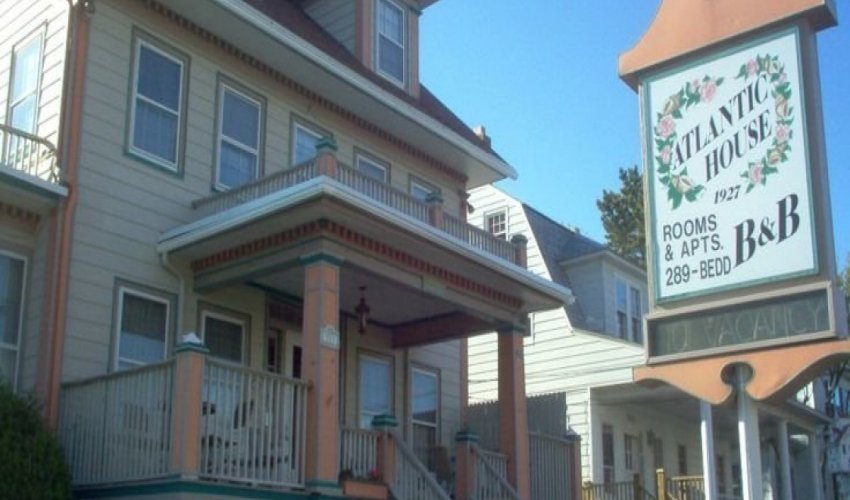 $$
Recent Reviews
TripAdvisor Traveler Rating
5
Atlantic House Bed and Breakfast
191
#2 of 22 B&Bs / Inns in Ocean City
Awesome place to stay!
Directly across from the beach and boardwalk, excellent rooms, and awesome breakfast made fresh!! Will definitely be coming back! Checking in and checking out was very simple, hassles...
charleslD8251TL
2021-06-10 15:20:33
Atlantic House Bed and Breakfast
Great Option With the Correct Expectations
We needed a place to crash for one night. We arrived late, the management had left our keys for us which was nice and convenient. The home is clean and nicely decorated and the bed in Room #3 was...
PibbleCollector
2021-06-15 10:55:35
Atlantic House Bed and Breakfast
Business Trip
The Bed and Breakfast has a Shabby Chic décor. Staff were very friendly from check in to check out, clean place and convenient location to the beach. I gave them Extra points for finding the Ipad...
Z1814QKpatriciag
2022-07-14 04:30:20
Atlantic House Bed and Breakfast