Atlantic House Bed and Breakfast
9:00 am - 5:00 pm
Sunday

9:00 am - 5:00 pm

Monday

9:00 am - 5:00 pm

Tuesday

9:00 am - 5:00 pm

Wednesday

9:00 am - 5:00 pm

Thursday

9:00 am - 5:00 pm

Friday

9:00 am - 5:00 pm

Saturday

9:00 am - 5:00 pm
This bed and breakfast is family owned and operated and located in the heart of downtown Ocean City, MD. Just a block from the famous Boardwalk and beaches, you will be close to many attractions and events in town. The Inn Owners will provide a delicious breakfast daily and will help point you in the right direction while at the beach!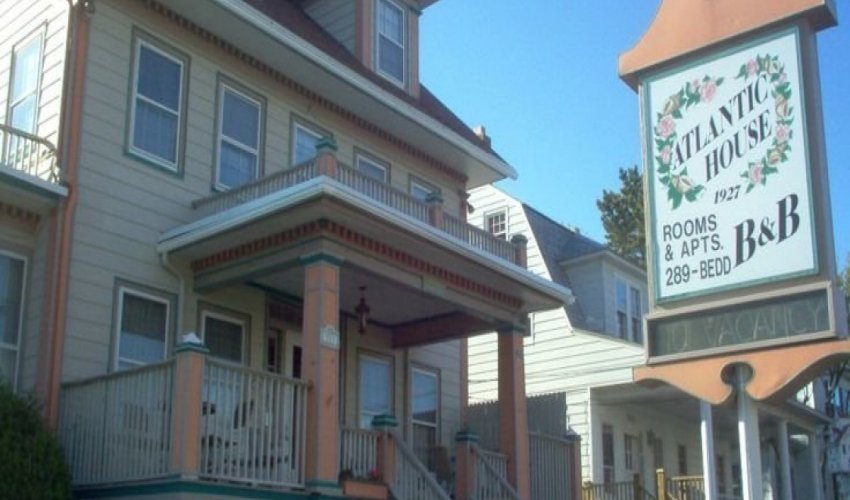 $$
Recent Reviews
TripAdvisor Traveler Rating
5
Atlantic House Bed and Breakfast
186
#2 of 21 B&Bs / Inns in Ocean City
Charming
Upon arrival it was determined that room#3 which I reserved was not available our first night. Maria was very accommodating and I agreed to room 10 since I didn't want to be on the 3rd floor...
Deme W
2020-07-05 17:12:29
Atlantic House Bed and Breakfast
Wonderful little bed and breakfast. Very accommodating. Very clean.
During this time with Covid going on. We wanted to stay some place that had less traffic rather than a busy hotel where we would have to get on an elevator with 10 other ppl. Atlantic house was...
127pare
2020-07-26 11:43:53
Atlantic House Bed and Breakfast
First time exploring Ocean City!
We were looking for a place to stay on the day of arrival, praying to find somewhere. Every hotel was a minimum of almost $300 a night, but we got lucky and saw one room at this bed and breakfast...
Zak-a-rye-us
2020-09-28 06:47:14
Atlantic House Bed and Breakfast