An Inn On the Ocean
Open Now 12:00 am - 11:59 pm
Sunday

12:00 am - 11:59 pm

Monday

12:00 am - 11:59 pm

Tuesday

12:00 am - 11:59 pm

Wednesday

12:00 am - 11:59 pm

Thursday

12:00 am - 11:59 pm

Friday

12:00 am - 11:59 pm

Saturday

12:00 am - 11:59 pm
An Inn on the Ocean Bed & Breakfast is a perfect blend of elegance, hospitality and ambience.
All rooms have a private bath and are magnificently decorated for luxury and comfort.
We are located directly on the Ocean in exciting and beautiful Ocean City. Enjoy the breathtaking views from our very private ocean front location or just relax in our gracious living room (fireplace in winter) or watch the waves and world go by from our wrap around veranda.
Ocean City's beautiful beach and famous Boardwalk are right outside your front door.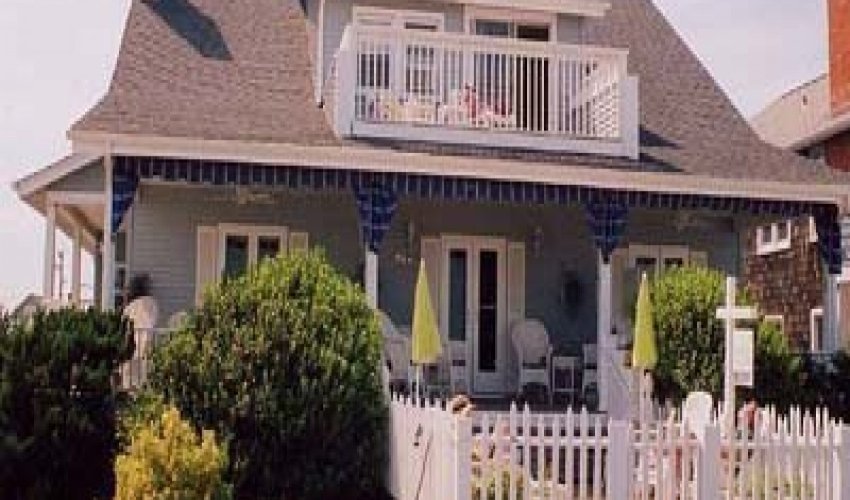 Bri Kozak : 4 on 9/25/2022 4:58 pm
Quaint, quiet, comfy little place right on the boardwalk. The covered porch was relaxing with beautiful views of the sunrise. Short walk right out on the beach too. Suggestion would be to update the website so guests don't expect a homemade breakfast but we had already read other reviews so we knew to expect only a grab a go type of breakfast. Or to hire a part time chef just for that purpose so the other staff aren't running around trying to cover everything between the two buildings, it would've been really nice to have had that breakfast in the beautiful breakfast room. And maybe fresh creamer for the coffee too instead of just the powdered kind so if you're not offering a full breakfast, at least you're serving amazing coffee. Staff were really nice and accommodating. Room was small but comfy (Canopy Room) and it was nice to come back to after a day on the beach. We slept really well and loved our stay. The beach chairs and umbrellas downstairs were a huge plus so we didn't have to lug ours down in the car. Loved the experience and stay!
Bri Kozak
1664125116
An Inn On the Ocean
Linda White : 1 on 5/31/2022 2:39 pm
Our third stay here and first time with new owners. Life long OCMD vacationer here!

The good: staff is friendly and the Oceana room had new flooring, AC unit and paint. We like the new lighter breakfast options.

The bad: the room was so dusty! The obvious things were clean, but no one cleaned the debris and dust from prior ceiling work. The ceiling fan, shade tops, lamps, tops of mirrors and art has rubble and dust. We asked for it to be cleaned again and even tipped $20. After they cleaned again, I went over some of it with a damp cloth and it was still dusty and dirty. The mattress is newer but super cheap, pillows are small for a king bed and cheap, the bed had a comforter insert but no cover on it! Toiletries were very low-end. Window shades are thin and all night long we could see the boardwalk lights through the windows. We paid $549 per night holiday weekend—we hoped for a nicer experience. The beach at 10th st has loud music now, we could hear it from our room—not the Inn's fault but giving a heads up.

Our AC unit had no power and they tried to fix it but wound up using an extension cord. We noticed many electrical hazards—overloaded wall sockets, for example. A fire hazard someone should look into.

We won't be back, even though the staff is wonderful. It's just not that nice any more, especially for the price.
Linda White
1654007966
An Inn On the Ocean
Dawn Ahluwalia : 3 on 7/17/2022 3:17 am
Have stayed here 4 times two times with first owners and we where very please rooms where clean breakfast was amazing owners very friendly since the new owners have taken over we stay two more times first I was not pleased at all the floors where nit clean sink was pulling away from the wall shower curtain fell down pillows are ridiculous old and hard so I thought maybe new owners where just styling in so I went this year to give it another try I was very unhappy at $450.00 a night for a bed and breakfast I feel that breakfast is not anywhere near what it should be it was more like poor Continental breakfast no coffee after 10 am no coffee or tea offered midday the sink was falling of the wall pillows like bricks floors dirty …. I'm sad this place is not what it used to be no good morning thanx for staying nit much on hospitality for the amount we pain would expect more it's a shame
Dawn Ahluwalia
1658027845
An Inn On the Ocean