Americana Hotel Oceanfront
Open Now 12:00 am - 11:59 pm
Sunday

12:00 am - 11:59 pm

Monday

12:00 am - 11:59 pm

Tuesday

12:00 am - 11:59 pm

Wednesday

12:00 am - 11:59 pm

Thursday

12:00 am - 11:59 pm

Friday

12:00 am - 11:59 pm

Saturday

12:00 am - 11:59 pm
Welcome to Americana Hotel and Resort, conveniently located on 10th street by the boardwalk with a short walk to the beach. All the units are provided with refigerators, microwaves, sinks and more. All this plus the benefit of direct boardwalk shopping and beachfront views!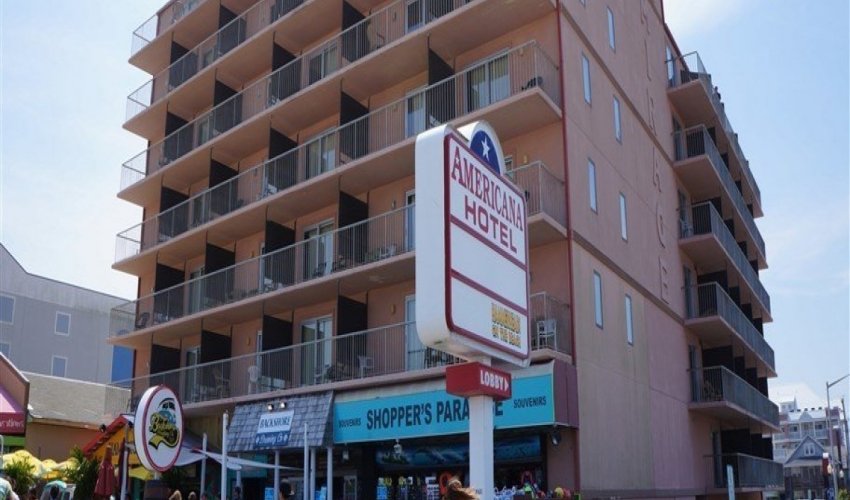 $$
Recent Reviews
TripAdvisor Traveler Rating
3
Americana Hotel Oceanfront
230
#91 of 117 hotels in Ocean City
summer trip
we stayed the first time at Americana and must say, it was a decent stay. The room was much larger then I thought it would be and for being bike week, it as rather quiet. It was about 1 1/4 mile...
garchr
2022-10-03 06:11:23
Americana Hotel Oceanfront
Birthday weekend getaway.
Been at this hotel before and enjoyed very much. This time was ok except for the lousy TV cable reception, it constantly would freeze or go dark. Making watching TV almost impossible. The...
afojc
2022-12-03 15:40:44
Americana Hotel Oceanfront
Yuck
This hotel is terrible. We found bed bugs! The people staying in the room next to us looked like they were in there doing drugs. The staff was very friendly but would not stay here again. Stick with...
K1129G
2022-12-04 04:55:55
Americana Hotel Oceanfront